I look like WHO!!!???
I was over at down & out in arkansas' blog just searching through looking at pictures and stuff (when I find a blog I like I like to read ALL of it so I know what the heck is going on, i'm not a stalker I swear!). And found where you can up load a picture of yourself and see what celeberity you look like...
Well the first picture I chose um...they couldn't find a match...i was getting upset..lol...so I decided on a different more current picture....this is the first picture I uploaded....
The next picture produced some canidates....except there is only one that I think i remotely resemble, and she is not even the TOP pick the site gave me LOL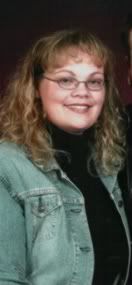 here is what the page gave me
59% Selma Blair (I FREAKING WISH!!!)
58% Bipasha Basu (AHEM WTF IS THIS?!?!)
56% Jamie Lynn Spears (This is the one I THINK I look most like...and frankly that's really sad...)
56% Terri Hatcher (AHEM OKAY)
55% Pricilla Presley (HMMM)
55% Romy Schneider (AGAIN WHO IN THE HELL IS THIS?)
54% Jodi Foster (no comment)
52% Jennifer Lopez (the only I have that she has is her ass, but A LOT BIGGER)
51% Betty Davis (the picture they showed of her was SCARY!!!)
then I tried my 2 cousins C and K, won't post their pictures as I have no permission to do so, although they have posted their own pictures on the net before...but that's thier doing not mine, lol....unless i have persmission to post someones pictures on my blog...i don't do it...
C's celebrity matches were.....(and I must say the biotch came out better than I did!)
71% Reese Witherspoon
70% Carrie Underwood
70% Julia Louis-Dreyfus
66% Jessica Alba
66% Florence Griffith Joyner (the runner)
this next one cracked my a$$ up!!!
63% Monica Lowensky (HAHAHAHAHA...she was like 11 years old when this happened LOL)
62% Janet Leigh
60% Brittany Murphy
60% Nick Carter - HEHEHEHEH A BACKSTREET BOY!!!!
K's matches were.....(she had 2 male ones, but somehow both my cousins had a famous black celeberity in their matches, must be the cherokee indian in them?!?!)
72% Sophie Marceau
67% Gabriela Sabatini
66% Rachel McAdams
63% Ricki Lake
62% Francoise Hardy
61% Aaliyah ( i miss her :o( (
61% Barack Obama (male)
60% Tata Young
60% Owen Wilson
59% Candace Bergen
and finally I did my neices pic, J, because she is one beautiful 18 year old...and her matches were....
74% Charlotte Church ( i love her voice)
68% Kelly Clarkson
66% Jessica Alba
63% Mariah Carey (i don't see it)
62% Britney Spears (well since I'm Jamie Lynn, at least we are keeping in the family?!?!)
61% Lindsay Lohan
60% Carrie Underwood (I would say that Charlotte Church and Carrie Underwood are the ones that come close to looking like my J).
if you want to do the same thing go to www.myheritage.com you'll have to register to see your results it's free :) I'm bloggin happy tonight aren't i? Well right now i'm running on some high dosage of pain killers, and about to hit the hay, so nightey night and don't let the bed bugs bite (literally!!!).
Okay I could not resist the urge to do my father's. I took a picture of him from the 60's and here are his matches, and frankly I'm a little jealous of the results!!!
73% Grace Kelly
71% Denice Richards
67% Marlene Dietrich
66% Joe Montana
63% Hugh Grant
62% Neve Campbell
61% Robert Palmer
my father has some GORGEOUS CELEBRITIES THAT CAME UP AS HIS MATCHES!!!! HUMPH!!!!