This and that...nothing much
Okay cool beans, FINALLY the pain jackhammer on my tooth has some what went away. But there's still like a little throb going on in there.
Nothing really to post, except I'm not deleted from myspace anymore :) Which makes me happy, I really don't blog much on that i do more of the bulletins. But its a place where i can keep track of very old friends from both highschools I went to, which is cool.
This weekend I'm dragging out the vacation pictures from 2001 (when I was at my heaviest in weight) and posting them on here, and each picture has a story so it will be FUN FUN FUN!!! LOL.
Rihgt now i'm leaving with a couple pictures of me, my first day of Kindergarten, I cut my brothers out of the picture so he would scream at me for posting it on the net, lol. I LOVE YA BUBBY!!!! (i think he and his wife reads this blog but you know I'm not for sure!). Also one that was taken at an amusement park in kansas city called Worlds of Fun....I'm so serious in this one! lol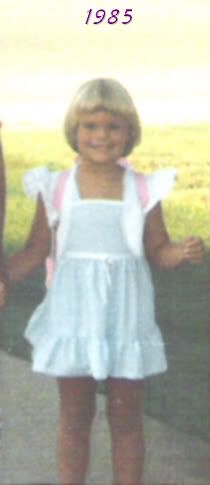 Notice the hairdo? I look like a character out of the movie "Children of the Damned" and not to mention looks like a bowl was put ontop of my head to do the hair cut! Yeah, well i got gum in my hair about 3 days before school started and my mom had no choice but to cut my hair, that was down to my waist, that short. GO ME!!!!