BlogDay! 2006
Well today is BlogDay, where all bloggers are incouraged to put down their 5 most favorite blogs with a little explanation of what those blogs are about. I however, just like my friend Barngoddess, could not pick out 5, you are all my blogger friends, and I love you all equally, and I just didn't think that was fair to pick out just five, so I again, just like Barngoddess put all my daily reads on paper and cut them up and put them in a cup, and had my co-worker L. pull out five.
These are the ones she pulled out, although they are not in order, lol, she threw them at me, LOL. She said I was strange! How dare she!! LOL.
To Be Perfectly Clear
Just My Thoughts
Ramblings from the Reservation
Rache's Diary
Truth is Freedom
I again started reading Redneckgirl from Bargoddess' page. She is so truthful on what she writes, and she and I have a lot in common. She is a very beautiful young lady, who is raising 2 boys as a single mom. I have nothing but the most respect for her as it is hard in the day and age to be single, but even harder to be a single and a parent. She's alovely girl, and I love her geniune posts. (i can't spell either!!)
This is my girl Barngoddess' blog. I actually stumbled across her blog from a Crime blog back in April, when a teenage nimwhit faked her own kidnapping here in Kansas. We have become very good internet friends, and I love her posts. SHe is not afraid to be herself, and this is what I like about her, not to mention her absolutely GREAT pictures of her horse, Scooter, her weenie dog Elvis (anyone who has a weenie dog automatically get's points with me, lol) and her cute little boy WeeOne. She also posts about the news that is happening which is great because it keeps us up with the current events, especially if you are not an avid news watcher or reader. I love her blog, and admire her for who she is :)
Rachel has to be one of the funniest blogs I read throughout my day. It never fails I always laugh everytime I read her posts. She is not afraid to be herself, and voice her opinons of what she is thinking, and that is why I like reading her blog. Not to mention her emails or post so Belbo :) She also finds the funniest and cutiest pictures to post along with her blogs. She has also become one of my best internet buddies. We message each other on the weekends, when she is bored with what she has to transcribe, and I try to keep her awake while she does it, I don't think I do a good job though! I greatly enjoy reading her posts, when there is a new one on her blog, I get all excited!!!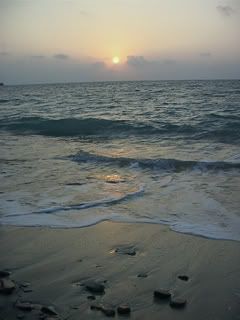 I again came across Brian on Barngoddess' page. I love reading his posts, he is a very talented writer, and poet, and I enjoy getting lost in is daily posts. He makes me laugh and sometimes tears come to my eyes as the passion in his writings are so soulful. He has such a great imagination, and I love visiting his blog.
Also just to let everyone know that the links I have on this blog are the links I go to everyday, and I enjoy each and every link for something that they offer that the others don't, it goes for EVERYONE, I do not play favorites, and I love each and everyone of you equally, you are my internet family, and you all keep me sane :)
HAPPY BLOGDAY everyone I hope you enjoy my links, and you all have a blessed Thursday :) (just think tomorrow is Friday, and then it is a 3 day weekend WOOHOO!!).