YUCK!
This is why I do not attempt to cook. 1. It never looks like it is supposed to 2. I never get it right and 3. Had to go and put it back in the oven when I found out the rice was not done!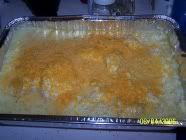 MINE, Yes, I know it's disgusting looking.

What it is supposed to look like :( Sniffle!
Cheesy Chicken & Rice Bake
From: Campbell's Kitchen
Prep Time: 5 minutes
Bake Time: 45 minutes
Serves: 6
Ingredients:
1 can (10 3/4 oz.) Campbell's® Condensed Cream of Chicken Soup (regular or 98% Fat Free)
1 1/3 cups water
3/4 cup uncooked regular long-grain white rice
1/2 tsp. onion powder
1/4 tsp. ground black pepper
1 1/2 lb. skinless, boneless chicken breast halves (4 to 6)
1 cup shredded Cheddar cheese (4 oz.)
Directions:
MIX soup, water, rice, onion powder and black pepper in 2-qt. shallow baking dish. Top with chicken. Sprinkle chicken with additional pepper. Cover.
BAKE at 375°F. for 45 min. or until chicken is no longer pink and rice is done.
UNCOVER Sprinkle cheese over chicken. Remove chicken and stir rice before serving.