Anne Frank
For my first installment on
The Most Intriguing People of the Century
, I have picked one of my favorite history icons,
Anne Frank
.

First Publications: The first translations of the diary in American and British English, German, and French.
As you all know Anne Frank made a big impact on everyone's lives with her Diary during WW2 and when the Nazi's were invading the Jews overseas. This diary was from the aspect of a 13 year old girl whose family was hiding in the attic behind her fathers grocery story, until one day an informant turned them in. Anne's father was the only one in the family that survived this terrible time in our history, and Anne passed away of of typhus at the age of 15 in 1945. He is the sole reason why her diary was published, he however edited some things out of her diary that he thought would not be appropriate for others to read. But in 1995a new translation of her diary was published in the U.S. which replete with the rebellious, coming-of-age musings of this young girl.
The diary was first published in 1947, and it has sold more than 25 million copies in 55 languages. I have the original published from this time (not the original diary of coures, pfft, just one that was published in 1947) and the new translation that was published in 1995. They are really similar, but of course the newer one has more to it the the originally published one that her father had edited out. I have read this book several times in my life, each time it has impacted me differently, depending on my state of mind at the time reading it, but it has never failed to bring tears to my eyes each and everytime I read it. The most impacted word in the whole book is the questions "Why?". The girl who asked this question would be in her late 70's now, and perhaps an accomplished auther. Perhaps maybe an anonymous housewife tending to her tulips. Regardless, her precocious words had leapt off the page and left us an unforgetable, unfinished symphony of life.
(I credit some of the above to Peoples: The Most Intriguing People of the Century, pg 53, and then some of the below from the official Anne Frank web page, that can be found here,
Baby Anne: Edith Frank with Anne, a day after her birth.
Jewish and German
"My father, the most adorable father I've ever seen, didn't marry my mother until he was thirty-six and she was twenty-five. My sister Margot was born in Frankfurt am Main in Germany in 1926. I was born on June 12, 1929."
Anne Frank
Annelies Marie Frank is born on June 12, 1929 in Frankfurt am Main, Germany. She is the second daughter of Otto Frank and Edith Frank-Holländer. Her sister Margot is then three years old. The family is Jewish and German. The Frank and Holländer families have lived in Germany for centuries.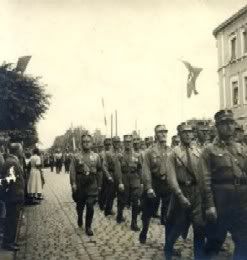 Storm Troopers: "Brownshirts" marching through a German town.
Anti-Semitism
"I can remember that as early as 1932, groups of Storm Troopers came marching by singing: 'When Jewish blood splatters from the knife.'"
Otto Frank
Anne's father works at his family's bank. Her mother takes care of everything at home. It is a carefree period for Margot and Anne. They have many friends in the neighbor-
hood where they live. However, their parents are worried. Adolf Hitler and his party have made the Jews the scapegoat for all of Germany's social and economic problems. The
anti-Semitism in the country grows.
Edith Frank and Her Daughters: This photo is taken in the center of Frankfurt am Main on March 10, 1933.
It is the last photograh Otto Frank takes before the family leaves Germany.
Dictator
"The world around me collapsed. I had to face the consequences, and though this did hurt me deeply I realized that Germany was not the world and I left forever."
Otto Frank
At the beginning of 1933, the Nationalsozialistische Deutsche Arbeiterpartei (NSDAP or Nazi party) comes to power in Germany. Adolf Hitler, the leader of this party, becomes Chancellor. He is responsible for the new government. Before very long, there is discrimination against Jews. Germany changes from a democracy into a dictatorship. Anne's parents no longer feel safe. Otto Frank's bank is also in financial trouble because of the worldwide economic crisis. Otto and Edith Frank decide to leave Germany.
Anne and Margot, 1933: While their parents are busy arranging the family's emigration to Holland, Anne and Margot spend the summer of 1933 with Grandmother Holländer in Aachen.
A New Start
"In the Netherlands, after those experiences in Nazi Germany, it was as if our life was restored to us. In those days it was possible for us to start over and to feel free."
Otto Frank
Otto Frank goes to the Netherlands in the summer of 1933. He has the opportunity to set up a company in Amsterdam that sells Opekta. This is a product used by housewives to prepare home-made jam. During that period, Anne and Margot stay with Grandmother Holländer who lives in Aachen Germany. Their mother commutes to and from Amsterdam to find the family a place to live there.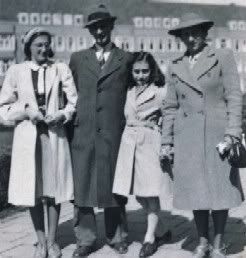 The Frank Family,Margot, Otto, Anne and Edith Frank on Merwedeplein in Amsterdam, 1941.
Discrimination
"After May 1940, the good times were few and
far between: first there was the war, then the capitulation and then the arrival of the Germans, which is when the trouble started for the Jews."
Anne Frank
The Frank Family feels free and safe, until the German Army invades the Netherlands on May 10, 1940. The Occupation of the Netherlands begins on May 15, 1940. The discrimination against the Jews begins then as well: Jews may not own their own businesses, Jewish children have to go to Jewish schools, all Jews have to wear a yellow star, and countless other restrictions. There are even rumors that the Jews will be packed off to Germany…
DiaryOn June 12, 1942, Anne Frank celebrates her 13th birthday. She receives a diary as a present. It is her favorite gift. She begins writing in it immediately: "I hope I will be able to confide everything to you…and I hope you will be a great source of comfort and support."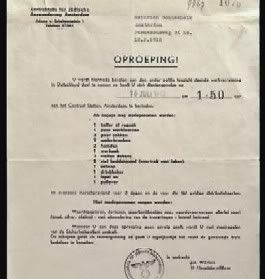 The Call-Up: Jews, who are summoned, receive this document from the Central Office of Jewish Emigration: an exact list of what they are allowed to bring with them. It also indicates when they must depart.
To the Hiding Place
"I was stunned. A call-up, everyone knows what that means. Visions of concentration camps and lonely cells raced through my head."
Anne Frank
The rumors that Jews must go to Germany are true. Just
like thousands of other Jews living in Amsterdam, Margot Frank receives a call-up on July 5, 1942. The Nazis plan to send the people they have summoned to work camps in Germany. The entire family will be arrested if Margot does not report.
Secret Hiding Place
Her parents have expected such a call-up: the secret hiding place is almost ready. Not only for their own family, but also for the Van Pels family: Hermann and Auguste and their son Peter. Hermann van Pels is co-director of Otto Frank's company. The next day, the Frank family immediately leaves for the hiding place. All of them carry bags filled with their things. Naturally, Anne brings her diary. Much later, she will look back and write: "My happy-go-lucky, carefree school days are gone forever."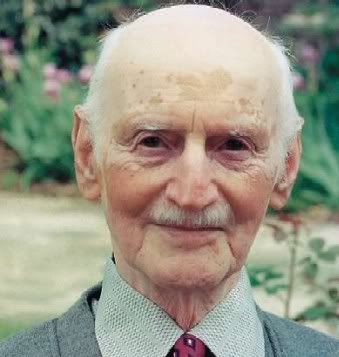 Otto Frank: Otto Frank in 1979. He dies on August 19, 1980.
Reconciliation
"I am now almost ninety and my strength is slowly failing. Still, the task I received from Anne continues to restore my energy: to struggle for reconciliation and human rights throughout the world."
Otto Frank
Following the war, Otto Frank devotes himself to human rights and achieving mutual respect. With his second wife Fritzi, he answers thousands of letters. These letters are written by people who have read the diary and they reach him from all over of the world. He corresponds with some readers at length and says about this: "Young people especially always want to know how these terrible things could ever have happened. I answer them as well as I can. And then at the end, I often finish by saying: 'I hope Anne's book will have an effect on the rest of your life so that insofar as it is possible in your own circumstances, you will work for unity and peace.'"
I highly recommend that you go to the following site