My horoscope
Read the end of it!!! HMMM...I THINK IT'S TRYING TO SAY SOMETHING TO ME!!!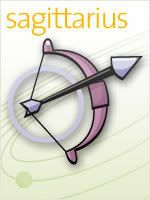 Two powerful eclipses are likely to create meaningful changes in your life this month. The first is a Lunar Eclipse on September 7 in compassionate Pisces that indicates some surprises on the home front may be in store. The Moon falls in your 4th House of Roots and Family and conjuncts electric and unpredictable Uranus. Emotions may skyrocket with excitement and agitation. Restless feelings could provoke you to make sudden changes in your personal life. Members of your household may behave erratically. But this eclipse will activate breakthroughs in awareness and create a sudden awakening to new needs, desire, and possibilities that might eventually lead to a change of location or career.
On September 22 a Solar Eclipse squaring deep, dark Pluto casts a shadow in your 10th House of Profession and Public Responsibilities. Consider cleaning up your act in this area of your life, if needed. Any secrets that you've buried could work their way to the surface. It might be hard to avoid a power struggle if you're dealing with someone who doesn't treat you fairly. There is an opportunity for you to reassert your authority now and claim more control over your public life. If you've been taking on more than your fair share of the burden, consider cutting back on your workload.