My "Children"
I was wondering over at
First there is "Katelyn" but as everyone refers her to "Katie", my mother calls her "Katie Bug" or "Doodle Bug", she is very much a grandma's granddaughter, lol. Well as much as a dog can be, but remember I have no children of my own, so this was really the first "grandbaby" from me to my parents. I refer to Katie as "Katie Doo Doo", "Dooder head" and "Mamma's girl", she answers to all of the above names, she's a bit confused I do believe.
Katie was born on January 21st, 2003, course I didn't know this until after I got her. I mean, I myself didn't give birth to her. Around late February of that year my father finally gave in and allowed me to get another dog, my precious poodle "Jeni", who I had since the age of 5 years old, was put down 3 years prior to this. My mom so desperatly tried to get my father to allow me (at this time I was 23 years old) to have another dog. He refused as they already had 3 of their own. Like I said it was late February and my mom came in one evening and said, here is the "Good News" (a weekly wednesday type want ad paper our community puts out), and she circled the available pets. "Dad said you can get a dog of your choice." I about flipped.
Originally I wanted a Yorkie or a Pomerianan (i spelt that wrong), I wanted my "FrooFroo" puppy. You know one I could put in a pet purse and dote around like those famouse idiots do. But all of them were so expensive at least 500 dollars if not more, I worked at Wal-Mart, and there was no way I could afford a 500 dollar dog. Plus mom didn't think that a FROOFROO dog would be the best with 2 weenies already and a pointer, plus her inhome daycare. She suggested another weener. So I relunctly said "Okay".
But in this news paper there wasn't any good animal adds so I called around to the area's vets and got the names and numbers of dachshund breeders. I called one up and she said "Yes, I have a little of 4 week old puppies. They are called 'Piebald' and they are mostly white." Well i wasn't interested. I read in the dog books that any white on a weenie was considered a "flaw". I tried this elderly woman that stated her pup was gonna be a "Teeney Tiney Mini" and I was very interested in this one, it was a black and tan (i love them they look like mini rots or min pins), but she was not available to be viewed for another 2 weeks. GOOD GAWD, I couldn't wait that long. So I went on ahead with the first breeder with the "flawed" dogs, lol.
My mom drove me out to the breaders house and we met her, she was a nice German lady, very heavy accent. She had a Chiahuaha (i spelt that wrong) whose name was "Spike" and he lived up to his name, a mean little shit! I viewed the 2 females of the new litter, she also had a male, but my mom wouldn't allow a male, as they tend to pee on everything. She picked up these to very small and teeney puppies. One was shaking really bad and kept her eyes shut (their eyes were opened by then) and her nose in the air. My mom held that one. The other one practically leaped out of the breaders arms into my arms. She started licking my face and wagging her cute little tail. I looked at mom, and she looked at me, "I knew it." She said. We were only there to view, not buy. I told the lady that the one I'm holding is the one I wanted, this would of been my Katie Doo Doo, I put a deposit on her that night, 50.00.
I couldn't pick her up for another 4 weeks, GOOD GAWD those 4 weeks dragged by so freaking slow! But it did give me a chance to get the "nursery" up and ready. LOL, the NURSERY! Which was really just a glorified dog cage with everything that a little 8 week old puppy could ever want or need!!
I had this "special" pink blanket I had bought, for her "homecoming" this was the blanket that I would wrap her up in and bring her home in. It was soft and cuddly. My dad drove me out to the breader at the end of that very long 4 week stretch. I went in and paid the breader the rest of the mula, an additional 325.00 (she went up 25.00 that she quoted me at the time of the deposite, i didn't care, i just borrowed money from dad, until we got home were I paid him back). I handed her the blanket and she went out to the kennel and got Katie. I was scared she wouldn't remember which one was mine, but she brought her out, and she was just as happy to see me as the first, so I knew it was her. The breeder asked me if I had a named picked out and I said "Yes, Katelyn, or Katie for short" she just looked at me like I was strange. She said "well we've been calling her bubbles, because of her big black spots." I said cool, although I NEVER liked the name, so hince me not keeping the name! I get into the car and my dad and I drive away, this is when Katie all the sudden didn't like me, lol. I think she realized "Oh shit! Where's my family?!?" She did fine after that though.
Katie got kennel cough almost immediatly after we brought her home. If none of you have ever experienced a dog with Kennel cough it sounds just like a real baby coughing and coughing, she kept me up. Infact I didn't sleep for almost the first 48 hours not for the cough (she didn't have it then) but because she didn't like her cage, the cage I spent a google amount of money on, and put everything she would ever need during the night in. She wanted me, but she couldn't sleep in my bed, she wasn't potty trained yet. I looked at my mom one morning and just cried she asked what's wrong "I don't know how mom's do it...that dog never stops crying!" She laughed and said it would get better. It did, until the Kennel cough set in. Once she stopped eating all together (Katie really has NEVER been a big eater, which is strange for a weenie dog), we took her to the vet. She got a shot of penacilin, oh that hurt my feelers, she yelped like she was being murdered, and then we were sent home with a bottle of penacilin to give to her 3 times a day. She drank that crap right up! LOL, must of been some good shit!
Katie was and still is very babied. She will always be my "first born" and she can never "do wrong" lol.
Here are some pics, 1 of when she was a wee pup, and one that is somewhat recent.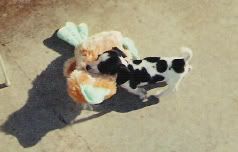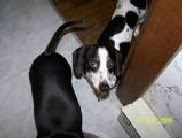 Now comes my Jade. Or as I call her a variety of names, "Jay Jay", "Jaders", "My fat Toad", "Stinker Head", and "Mamma's baby" (not to be confused with Katies "Mamma's Girl"), Jay Jay an Stinker Head are the most to common names I call her.
Jade was born on October 13th 2005 (she's almost 1 year!), to a woman who's dogs had an OOPS, which was the secong OOPS in 9 months that they had, lol. Guess they couldn't keep their little paws off each other! This lady is the Aunt of my supervisor, and I saw one of the puppies from the first litter when her mom adopted one a black and tanned one, it was so stinking cute.
I had been living in my apartment for about 3 months and Katie was lonesome, and needed a friend. My parents thought it was a VERY bad idea to have 2 dogs in such a small place, but I couldn't bare to leave Katie there at home all alone anymore. Pluse my mom thought that Katie would act out if I got another dog, feeling like she wasn't loved or wanted anymore. I took this in consideration, as I told my friend I was interesting in the solid black puppy, lol.
Jade was my free puppy, I got her when she was barely 6 weeks, and barely wwined from her fat momma! Who she looks like now, fat! Jade was not as much babied as Katie was, I guess I'm a true parent, lol. I doted over my first but not so much over my second. She too had a "special" pink cuddly blanket one that said "i love my mommy" in the corner, and she too was brought home in that blanket.
Jade was much better sleeping in the cage at night then Katie. I don't know what it was but she did much better. She did cry, but I would just open the door and put her up on the "special" bed i made for her next to my head, and calmed her down, and we would all sleep in the bed. She never did make a mess in the bed when she was that young, but I had her one 2 baby blankets and a plastic sheet so it wouldn't ruin anything, lol, just in case.
When Jade was about 5 months old she got parvo, in which I thought she had all her shots, well I was TOLD she had all her shots. Damn vet. She was a very sick sick puppy. She had an emergency trip to the vets on a sunday mid morning, and I cried all the way there and all the way back. Dogs who get parvo are not likely to survive such a horrible disease. I thought that was the last time I would see her again. The vet told me to come back Monday after work to see how she was doing. I did so, I wasn't allowed to see her as she was in Isolation, and battling to survive, I gave the vet her beloved bunny (really a soft bunny that was a rattle, a real babies rattle), and asked her if she would please give it to Jaders. She was very willing to do so. She told me to come back Tuesday after work to see how she was doing. I did and when I walked in the receptionist said "Oh you're Jade's mom aren't you?" and I said "Yes, how is she?" and she said "Doing wonderful, I'll go get her, just go to the patient room and I'll bring her to you" I did and when she brought my precious little girl in Jade's ears purked up and her tail started wagging and she wiggled out of the receptionist arms to get to me. I reached for her and she peed all over the side of my shirt, I didn't mind though. She was hooked up to an IV bag. The vet came and said she was on her way to recovery, but she would need to stay another night or 2 in the hospital to ensure that she didn't have a set back. I got her home that Wednesday night. Katie was even happier than I was to have Jade back!
Jade was my freebie but that trip to the vets was 500.00, that hurt, it hurt alot, but it would hurt even more if she wasn't here with us today. Then 2 weeks later she had to have her "female surger" that was another 150.00 but Ididn't want to be a grandma at the age of 26 so it had to be done.
Jade got her name from the lady's children (the one that her little doggies had the OOPS) they were Bratz fanatics. I liked the name, so I kept it. I was originally going to name her Raven, because of her being all black. But I liked Jade better.
Here are a couple of pictures of Jade, one from her first night with mommy (i'm not holding her my best friend Laura's mom is holding her) and one that is recent, and you can see where I call her "My fat toad".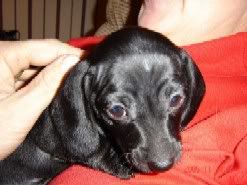 I love my children very much...and would not give them up for the world! I wish more people loved their children and their "children" in our day and age, that meaning BOTH the human kind and the furry kind, but unfortuniatly they don't and I feel so bad for those children (both types) who aren't loved.
Now to my Bob Barker's quote "Please have your pets spade and nueatared (ispelt that wrong)".
(it took me until 8:15 pm to post type all this...I really need to type faster!!)