Not again...
I was sitting in my recliner today and I rubbed my nose, and something fell off it, and then puss came out of the end of my nose. GOOD GAWD NOT AGAIN! I wonder if this is not a staff infection instead of a bite, where the hell did i get a staff infection?
It doesn't hurt like the one back in May did, course it is also just starting out the EXACT same way as that bite did in May. That didn't hurt until later about 3 days after I found it.
I have some meds that I'm taking for my never ending toothache (yes, still have that) so hopefully it will clear this up as well.
Here are some pictures of what it looks like tonight, this is what it looked like in the beginning the last time you may not be able to tell anything is different about my nose in the pics, but, I can tell you this that my nose is swollen, and I look like rudolph the read nose pumpkin (since it's halloween and all :) ).
Wish me luck in hopes that this doesn't make my whole face swell like it did the last time.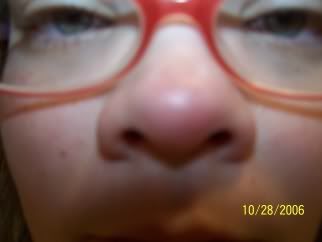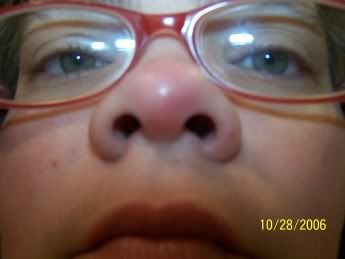 I got this over off my girls Barngoddess site. It's my sign candy (for the holidays)
It is nothing like me I do not collect Pez Dispensers nor do I like Moundsy, ICK. LOL.
Sagittarius Candy (Nov. 22 to Dec. 21)
Sagittarius isn't the most materialistic sign in the world, but there are some things that these folks do collect. One of them is Pez dispensers. (These justice-lovers have a special fondness for the ones depicting superheroes.) Archers always dream of visiting distant lands, which is probably why they enjoy Mounds bars … nothing evokes swaying palm trees than that delicious coconut taste! Naturally, these jokesters adore Chuckles, too.